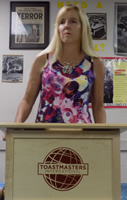 August 30, 2016 Maverick Club Meeting at Sun Valley High School – 11 total in attendance
Meeting Theme: Money
Vice President Membership Winona P. led us through the pledge, club mission statement, and Toastmasters moments before introducing Toastmaster Rob M.
Toastmaster Moments:
Paul helped direct those at a memorial service this week.
Rob utilized listening skills refined at Toastmasters during a conversation with his wife.
 Sheryl attended a club contest today and though they were unprepared, she convinced a few of them to participate and the club had a successful contest.
Pablo was approached to start a new club at his place of work.
Liz negotiated insurance coverage for one of her program's new participants and through that developed a solution to a recurring problem.
Speeches:
Deb M. "Social Motivation"
Competent Communication Manual, Project #3: Get to the Point
Deb was inspired by the book "The Influencer."  She described a process she went through with a troupe of girls and their parents as they worked together to build a parade float, dividing the backdrop into 3 seconds so each girl had a section to decorate; and what to do with the single trophy they had won, opting to have all names engraved on it and displaying it at the school where they met.
Casey B. "What an Adventure!"
Entertaining Speaker Advanced Manual, Project #1: The Entertaining Speech
A friend convinced Casey and a few others to go on a hike to Devil's Chasm that turned out to be a series of problematic circumstances: an hour of travel on a dirt road with no signs of life, climbing up a rock face and nearly slipping off, nearly being crushed by a falling boulder, and finally giving up on reaching the Native American ruins.
Mike B. "Some of My Best Friends" or "A Few of My Close Friends," depending on who you ask
Practice run of humorous contest speech.
Mike retold his contest speech, featuring antics from a handful of his animal friends at the Phoenix zoo.
Table Topics:
Which is it better to donate: time or money, and why?
Audrey challenged us to go ahead and give money when we were able to, but encouraged us further to make donating time a priority.
What is something you've done right that you're proud of?
Pablo talked about giving back to the community because he believes "that children are our future; teach them well and…." He is particularly proud of his work with Guitars Not Guns and Junior Achievement.
What is something you would change about the student loan process?
In not so few words, Emi basically said she wouldn't change anything. She believes in being responsible and paying back loans, working hard for your own education rather than expecting someone else to pay it for you or simply forgive your debt.
The secretary missed Rob's question but his answer was that to give sacrificially benefits everyone.
Functionaries:
Toastmaster – Rob M.
Topicmaster – Michael H.
General Evaluator – Sheryl R.
Wordmaster – Pablo R.
Word of the Day: Fiduciary (adjective): of, relating to, or involving a confidence or trust; (noun) a trustee
Grammarian – Winona P.
Ah Counter – Liz Sh.
Timer – Emi B.
Word of Wisdom – Audrey D.
Jokemaster – Liz S.
Awards:
Most Effective Evaluator: Winona P.
Best Table Topics Speaker: Pablo R.
Speech of the Day: Casey B.
Spark Plug Award: Mike B.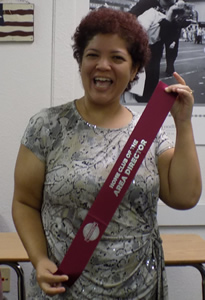 Vice President Education Karen R. closed out the meeting.
Business & Reports:
Immediate Past President Liz presented the President's Distinguished Club ribbon to the club.
Then Treasurer Liz announced the kickoff of dues renewals.
Emi and Sheryl presented their Home Club of the Area Director ribbons to the club.
Next week (the day after Labor Day) will be speech-a-thon day.
Karen called for a motion to pay $75 to the Gilbert Historical Museum for the venue fee for the Spooky Tales Contest on November 1st (that is $25 an hour for 3 hours). Liz so moved and Pablo seconded. The motion passed.